Rye Lane is full of exciting spots that you can easily spend hours exploring. If you head to 133 Rye Lane, you'll find the brand new Market, a workspace where independent businesses and creators can thrive in South East London!
The Edwardian building has been refurbished and extended, with now a whopping seven floors to discover! The Market's floors will feature a new retail space, a selection of top restaurants like Forza Wine and Tonkotsu, as well as a library and lots of desk space. Architects have been working tirelessly for years to design and develop this space with the help of Peckham's local community.
Their light and airy hot desks offer a unique and inviting workspace where small businesses can grow and be at their most productive. They offer a fantastic atmosphere where individuals can have a safe space to experiment with their new ideas and meet like-minded people to network and collaborate with.
Fixed desks are for those who are looking for a more permanent home, with larger surface space, secure storage and ultimate an area you can completely personalise. This is perfect for businesses who are intending to stick around and want to create a home base! They can even change the number of desks in your area month by month so, as your business grows, so can your workspace!
Want a more secluded area to smash running your new business? Then you'll love the Market's private studios. They have a wide range of sizes, with a capacity from 2 to 14 people! With a business base in the heart of Peckham, you'll have great access into central and east London to attend those exciting meetings!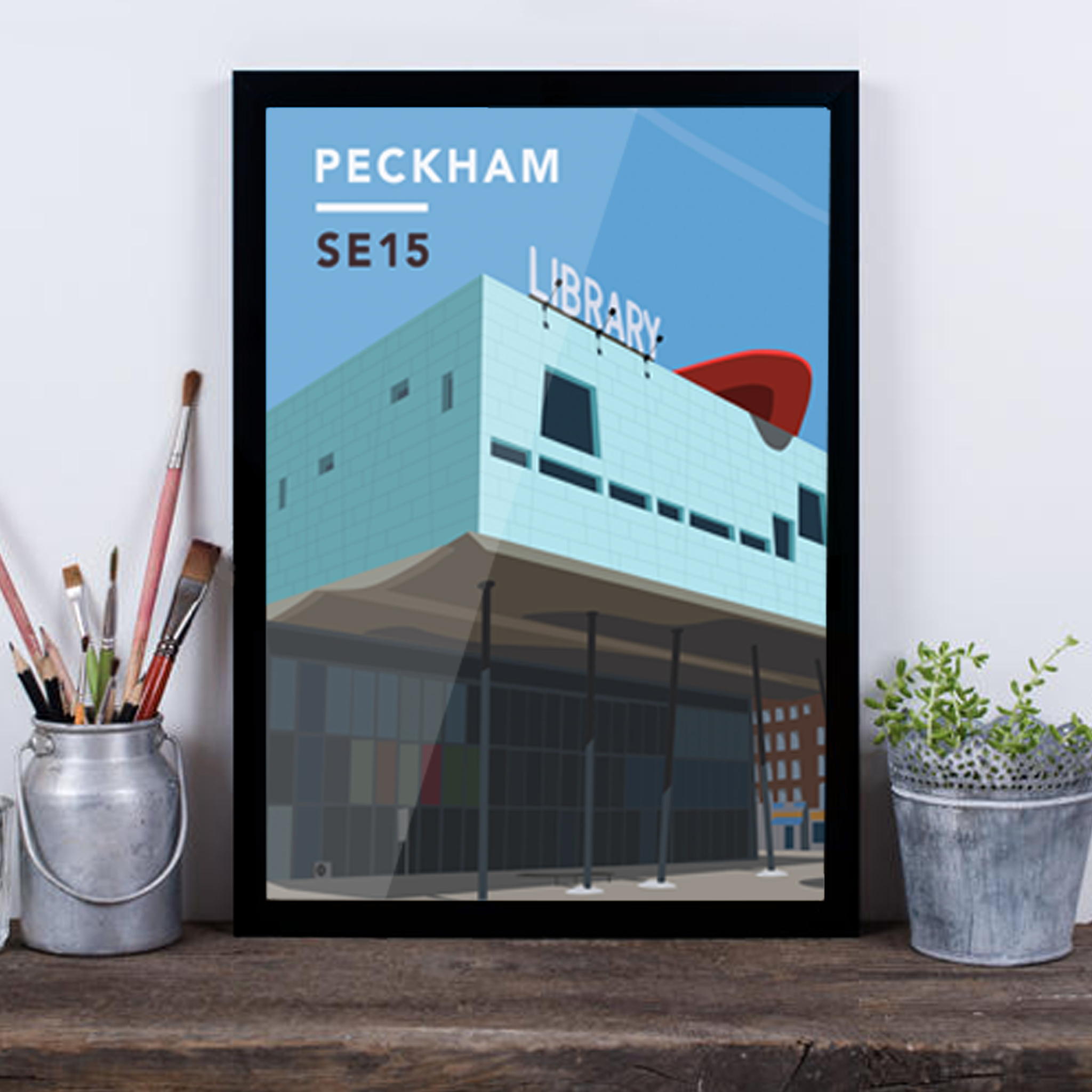 Peckham Library SE15 - Giclée Art Print
Peckham 90s Style Unisex T-Shirt
Daniel Peters, founder of Your Samples Collective, is just one of the first residents to settle in this creative hub. Your Samples Collective is a premium British menswear brand that originates from Southwark and Daniel was the winner of 'Peckham Rise', the annual competition the Market hold to celebrate and support local businesses who are looking for a home away from home to work.
Expect even more exciting additions, including Forza Wine serving up antipasti in the lively rooftop garden and Tonkotsu, a tasty Japanese noodle bar to slurp up some goodness! Then you can head down to the basement where local bands carefully curated by Bermondsey Social Club and Four Quarters will perform so you can dance the night away!
What Is The South London Club?
The South London Club is a local discount card to help support small independent businesses across South London whilst saving all who live, work & play in South London money! With over 850+ local discounts to choose from, you will discover & explore all the best hidden gems in South London. Join over 7,000 of us & celebrate all that's independent & South London!