Whether you like it plain, meat-free or with all the toppings, burgers are a favourite amongst lots of South Londoners, either as a quick snack or a sit down meal. We'll take you through a selected list of where you can find the juiciest burgers in Battersea!
231 Battersea Park Road, London, SW11 4LG
The Magic Garden is the perfect place to celebrate Battersea's community with a delicious burger. Their schedule is jam-packed with exciting events, the place often being described as a 'festival in a pub'. Their Homemade Magic Garden Burger is served in an enriched cream bun to sink your teeth into! If you're a veggie, then try their equally tasty Cauliflower Burger. Bring along your South London Club Card and get 10% off all food and drink Monday - Friday.
140 St. John's Hill, Battersea, SW11 1SL
With another restaurant based in Earlsfield, South London are spoilt with Ben's Canteen constantly creating new dishes for their loyal customers. Some of their best burgers on offer include the vegan Bhji Burger, filled with potato and onion baji and Koren Fried Chicken with flaming Koren hot sauce. They are even working on the new Nduja Fried Chicken Parmy with Buffalo Mozza, Spicy Mayo and Pickles! Use your South London Club card to get 20% off dinner!
Battersea 90s Style Unisex T-Shirt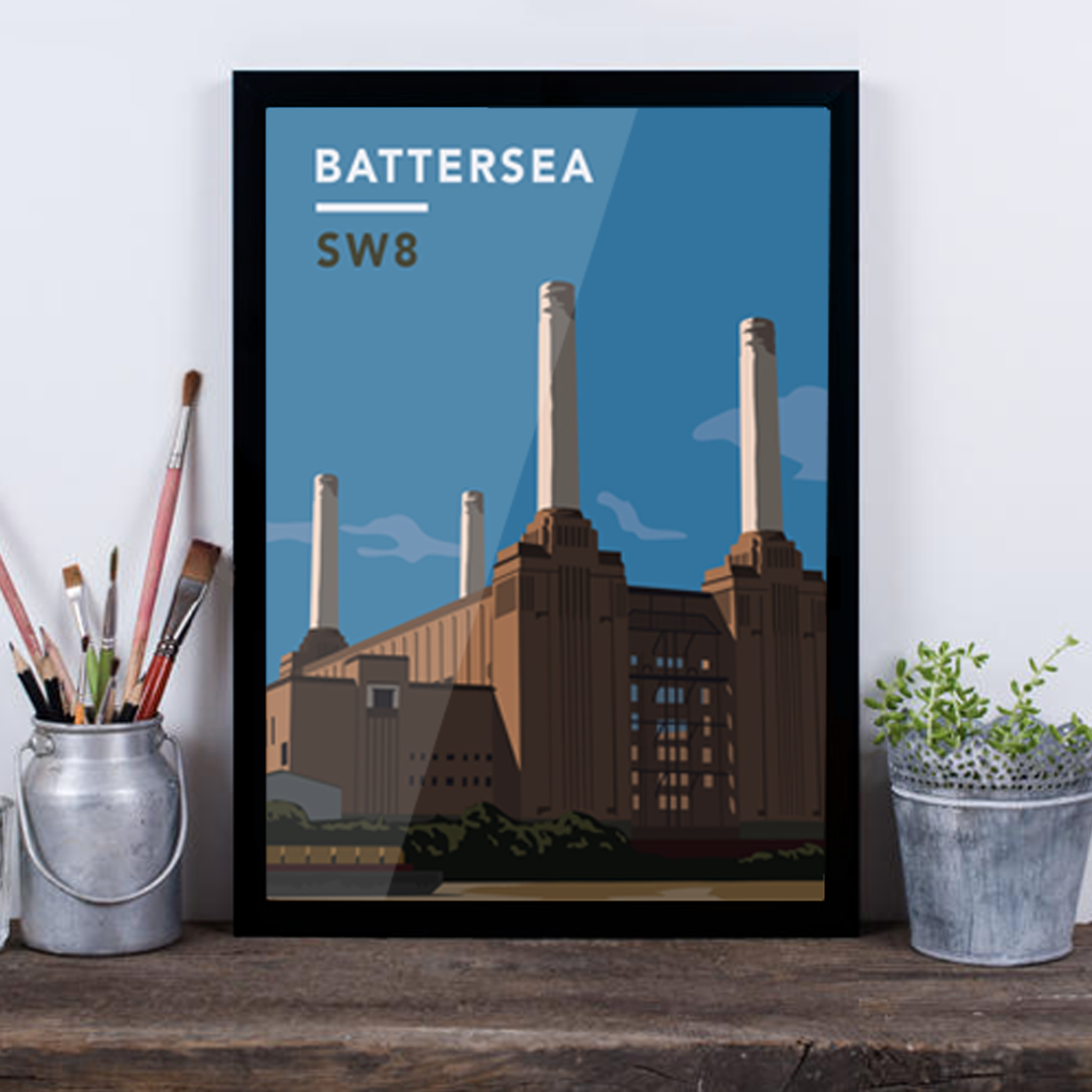 Battersea Power Station SW8 - Giclée Art Print
87 Battersea Rise, London, SW11 1HW
This joint is exactly what is says on the tin: the 'dip' refers to meat-filled fresh bread rolls dipped in gravy and the 'flip' points to their chrome griddle smashed burgers, creating a crust that locks in all those delicious juices. These unbelievably cheap burgers are the perfect hangover cure, packing with oozing sauces. Try their latest creation: the Farmyard Extra, with Minced Beef Patty, Gravy dipped Roast Lamb, Chicken Burger, Cheese, Bacon & a Fried egg with extra gravy on the side for dipping!
339 Battersea Park Road, SW11 4LS
Make sure to finish licking your lips after eating your burger before hitting the dancefloor at Lost Society! This Battersea pub has a lively dance and food scene, with an impressive selection of gourmet burgers, including Aged Rump of Beef burger and Grilled Halloumi Burger! Try one of their expertly made cocktails to wash it all down. With the South London Club card, you can get 10% off your bill Monday - Friday and free entry and queue jump on Sat night. (Usual door entry is £5 after 9pm).
172 Battersea Park Road, London SW11 4ND
This fast Food restaurant is dedicated to giving you a range of delicious burgers that are top quality every time. Whether you prefer your meat from the cow, a succulent grilled chicken or no meat at all, KKS Gourmet Burger Co. have got you covered. Their most popular dishes include the Grandioso, as well as an 'inventor' option that puts the power in your hands, creating your burger just how you like it!
102 Lavender Hill, London SW11 5RD
The burgers served here are promised to be unforgettable! Some of their creatively named burgers include Hipster Chick, with buttermilk fried chicken and homemade guacamole, and the vegetarian Italian Job, with slow baked tomato, mozzarella and green pesto. Still have a rumbling tummy? Then treat yourself to some loaded fries on the side, including the Hot, Dirty and Loaded, with 8hr slow cooked pulled pork and creamy blue cheese.
What Is The South London Club?
The South London Club is a local discount card to help support small independent businesses across South London whilst saving all who live, work & play in South London money! With over 850+ local discounts to choose from, you will discover & explore all the best hidden gems in South London. Join over 7,000 of us & celebrate all that's independent & South London!