Pop-up restaurants are for those who sometimes need a little push to try something new. With a residency of sometimes as little as six weeks, pop-up restaurants are perfect spots to receive top quality and often unique food that is always limited edition. This blog will take you through some of the best pop-up restaurants you can find in South London.
This pop-up restaurant doubles as a catering company, cooking up the tastiest Caribbean food that happens to be entirely plant based! With their clever hashtag #noCANdo, Electric Future Foods promises that none of their dishes contain any canned food. Some of their hottest dishes include the Crispy jackfruit burger w/ micro herbs, sun dried tomatoes, humus, wild garlic & plantain. If you get the chance to visit, make sure to bring your South London Club card and get 10% off!
You can enjoy these quality burgers delivered straight to your door with Ohh My Gourmet! These towering burgers are perfectly made with 100% chunk meat, oozing with cheese and other delicious toppings. You can even order some peri-salted chips for the ultimate meal. Don't forget to use your South London Club card on your next order and get 15% off everything!
Catford Cat SE6 - Giclée Art Print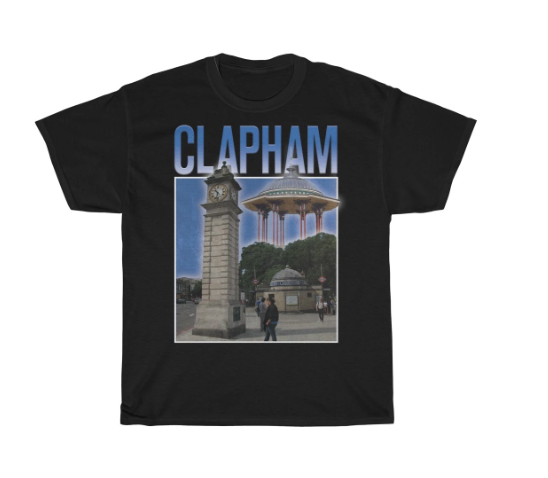 Clapham 90s Style Unisex T-Shirt
Origins Food Club is all about transforming the historical into the modern, the chefs taking inspiration from their roots, including Asturias, in Spain. If you get the chance to book one of their supper clubs, you'll be in for an array of inventive dishes, including Grilled octopus with celeriac puree, paprika and extra virgin olive oil! When you book, remember to say you're a South London Club member to get £5 off.
Southbank Centre, Belvedere Road, London, SE1 8XX
You'll be in for a very unique pop-up experience when you visit The BBQ Club! When seated, you'll be given a Big Green Egg BBQ set, where you can be in charge of cooking your meat just how you like it. The chefs always prepare a stellar 6 course menu, so you'll always be spoilt for choice. They also offer upstairs dining, where you can enjoy the sizzling food whilst overlooking the scenic River Thames.
Friday nights @ Good Hope Café

216 Hither Green Lane, Hither Green, SE13 6RT
This pop-up draws inspirations from Syrian cuisine, with its chef set on waking up your senses with his food. Some of their dishes served at previous events include M'lukhiya, organic chicken leg stewed in mulukhiya leaves (tough, rich and fragrant green) and Bamiya, fresh okra with tomato sauce and sautéed onions. Bring your South London Club card to the next event and get
Hither Green Water Tower SE13 - Giclée Art Print
Peckham 90s Style Unisex T-Shirt
Formed back in 2012, this Indian street food pop-up has only grown since then! They specialise in the Indian favourite Kolkata Kati Roll, but also create dishes like Masala Fries and Sourdough Naan Sliders with Curried Chickpeas. They have also appeared at Catford Food Market and Blythe Hill Festival! When you book tickets for their next event, make sure to use your South London Club card and get 15% off your booking!
Lewisham Clock Tower, Lewisham High Street, London SE13
Are you a lover of hotdogs? Then The Sausage Man has you covered! Their newest menu item, in the image below, is the creamy Cheese Frankfurter, a smoky sausage filled with Emmental cheese. Their sausages are imported straight from Germany, so you'll be getting the best authenticity with every bite. They also serve chicken, beef, pork and turkey sausages. Use your South London Club Card here and get 10% off everything.
Explore some of the best Filipino food you can find in South London at The Adobros! The owners stay true to traditional Filipino cooking, focusing on taste, rather than exact measurements. One of their most popular dishes is the Adobo Chicken Wings, as well as Kare Kare, a rich peanut stew. With your South London Club card, you'll receive a complimentary bottle of wine or drink for every 2 people in the booking.
Until the end of 2019

40 Bermondsey Street, SE1 3UD
The British sharing plates this pop-up create are perfect to enjoy with friends and family. Many reviews claim James Donnelly has raised the bar with his food, serving up succulent Spiced Meatballs served with hummus and roast summer vegetables and Jerk-spiced chicken, red cabbage slaw, sweet potato, spring onion. This British take on tapas is a must try!
Unit 10, Tyrrell Trading Estate, Tyrrell road, London, SE22 9NA
This delicatessen pop-up loves delivering the great tastes of Sardinian food to South Londoners. From cheese to salami, Capo Caccia serve an incredible variety, like Pecorino cheese and Salame Della Nonna. Check out their website too, where you can order this delicious food online! Every South London Club card member can get 10% off.
What Is The South London Club?
The South London Club is a local discount card to help support small independent businesses across South London whilst saving all who live, work & play in South London money! With over 850+ local discounts to choose from, you will discover & explore all the best hidden gems in South London. Join over 7,000 of us & celebrate all that's independent & South London!