Southwark is the latest borough to be covered in the South London Club's quest to bring you South London's finest pizza. The choice in Southeast is pretty mind blowing, with most plumping for the traditional Neopolitan sourdough base with its trademark pillowy cornichon, tangy flavour and fresh, Italian toppings. But we've also featured a couple of fantastic gluten free options, some Roman style, thin and crispy offerings and one totally vegan, superfood charged outlet that's guaranteed to set tongues wagging and mouths watering. Enjoy...
- 15 Perry Vale, Forest Hill, Forest Hill, London SE23 2NE
This good old fashioned family-run restaurant in Forest Hill is a great option for the health conscious pizza lovers out there - they use organic ingredients wherever possible and you can opt for an activated charcoal base, which promises to absorb toxins in the body and is easy on the digestive system. Many of their ingredients are imported directly from Italy, including the salami, cheeses, olive oil and balsamic vinegar - so you know it's the good stuff. Their garden is perfect for al fresco dining with the family over the coming month, plus, take along your South London Club card for a 10% discount (5% if used in conjunction with other offers).
- 44-46 Southwark St, London SE1 1UN
O ver offers a classic, to the point menu of Neopolitan fare - with a couple of very important jazzed up extras, like truffle burrata. The pizzas are baked in the traditional, Neopolitan fashion, yielding a blistered, sourdough base and a soft, soupy centre. They're committed to only using the very best authentic, Italian ingredients, which is reflected in the price - this one's definitely a special treat - and the service is attentive and thoughtful. Make sure you save some room for the pistachio cannoli.
- 2 Grove Ln, Camberwell, London SE5 8SY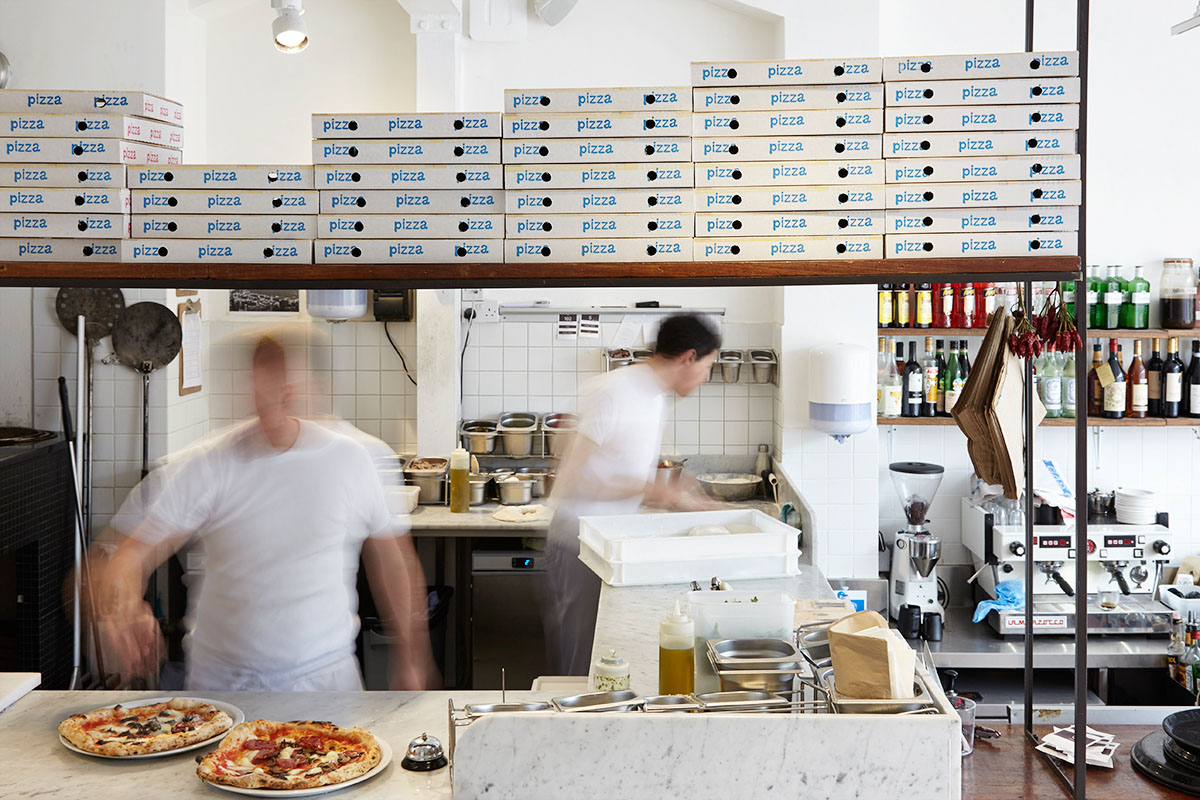 On any given evening you can pretty much guarantee you'll be joining a throng of people waiting at the corner of Camberwell's leafy Grove Lane, where Theo's Pizzeria is housed. Don't let that put you off, in the scores of times I've been I've never waited longer than the time it takes to grab a quick drink at The Hermit's Cave next door, and often there's room at the bar inside Theo's itself for you to peruse the menu as you sip one of their delicious signature cocktails. The decor is clean and modern - repurposed wooden benches and booths, decadent slabs of marble and staff that are efficient and accomodating. The pizzas are out of this world, definitely not to be missed is the bufalina - a sourdough base cooked to perfection and topped with fresh tomatoes, torn buffalo mozzarella and basil. The pizza fritta, though usually not for the feint hearted, is a surprisingly light affair rather than oily or dense, with a smattering of thick cut, confit pork belly. P.S. they also have fantastic, gluten free dough.
- 64 Peckham Rye, Peckham, SE15 4JR
Having travelled London's street food circuits for many years in the back of a 1961 double-cab Volkswagen Pickup, the Pizza Pickup team eventually came to a stop outside number 64 Peckham Rye. Very conveniently located for coming months spent on the Rye, they offer the discerning Peckham food crowd a Roman style pizza - thin crusted and wood fired. Be sure to take along your South London Club card for a tasty little 15% discount.
- 25 Dartmouth Rd, Forest Hill, London SE23 3HN
Winner of a Time Out 'Love London' award is Forest Hill's neighbourhood Neopolitan fav, Bona. Run by a local Italian wine journalist, simplicity and quality is the name of the game. Every element to these perfect pizzas has been carefully considered: from the soft, pillowy cornichon (courtesy of an extra-long dough maturation) to making sure that each ingredient is sourced at its peak - think Sardinian fennel sausage (salsiccia), salina capers and salami from the ventricina delicatessens of Abruzzo. The wine list is, as to be expected, a beautiful little curation of Italy's finest, with bin-ends often available on request.
- 153a Dulwich Rd, Herne Hill, London SE24 0NG
Sat in the perfect spot, right opposite Brockwell Park, everything about 500 Degrees is an authentically Neopolitan experience, from its traditional clay pizza oven, to its ingredients imported directly from the motherland (bresaola, culatello, smoked mozzarella - the works) to its friendly staff, to its sumptuous sourdough pizzas. It's a small dining room, so on the off chance you can't get a seat right away there's nothing like a little pre-dinner stroll in the park to whet your appetite!
- 182 Bellenden Rd, Peckham London SE15 4BW
Made of Dough have been street food dons for quite some time now. If you live in South London, it's more than likely you've seen them cruising around in their Landrover which once upon a time housed an oven and the entirety of the Made of Dough operation. They've finally settled down, setting up shop on Bellenden Road but sticking to their winning formula of 60-hour dough fermentation, mozzarella driven in fresh from Campania twice a week, and tomatoes from the foothills of Mt. Vesuvius - the birthplace of pizza. Our only complaint would be the 'Sexy Bitches Love Pizza' tees…come on guys, it's 2018.
- 75-79 Dulwich Village, Dulwich, London SE21 7BJ
Rocca's a great option for lazy weekend lunches with family and friends. The dining room is large and bright, filled with the delicious smells from the open kitchen at the centre. Pizza wise expect a thin and crispy style made from organic, stone-milled dorset wheat and baked in a proper pizza oven. For meat lovers the 'iberico' is not to be missed: organic chorizo and iberico ham on top of a tomato and mozzarella base. Overall as a dining experience, this one feels like a treat with the decor and the service but the price is still very pocket friendly.
- 380 Walworth Rd, London SE17 2NG
To visit La Luna is to be teleported to the heart of Rome, or Naples, or whichever Italian city takes your fancy, the decor is cosy and traditional, the staff are warm and the flavours are second to none. They are generous with their toppings, there's a great variety and you can even create your own!
- 58 Kennington Park Rd, London SE11 4RS
A cute little neighbourhood spot on Kennington Park Road, Maximo Bistrot offers a large selection of both classic and regional pizza varieties - including some lesser seen ingredients such as grated Sardinian bottarga and tropea onions - as well as a handful of their own specials. They have also made a special effort to cater to gluten free customers, so more fun for everyone!
- 143 Evelina Rd, Nunhead, London SE15 3HB
Another in the line-up bringing you sourdough bases in a stylish and fun atmosphere. But these pizzas are anything but run of the mill, the bases are perfectly crafted for those that remain on the fence when it comes to the napolitan craze - a hybrid between the ubiquitous thin-and-crispy of times gone by and the pillowy-chewy-soupy affair we are engulfed in now, their tang is also milder and less in your face. The base acts as a more subtle backdrop to the lashings of toppings laden on top at Four Hundred Rabbits, often featuring ingredients that are anything but ordinary - merguez sausage, rhubarb, bone marrow, I could go on. A dangerous accomplice in all this is their barrel-aged £4 negroni, the cheapest I've come across in my quest, and finishing it all off is pizza's only logical successor: proper gelato (theirs comes from the best of the best: Gelupo), with the option of going big in the form of a sundae with up to three scoops and toppings including crushed amaretti, nibbed pistachios and salted caramel sauce. The inevitably ensuing food coma is so totally worth it.
- unit 506, Peckham Levels 95A Rye Ln, Peckham, London SE15 4ST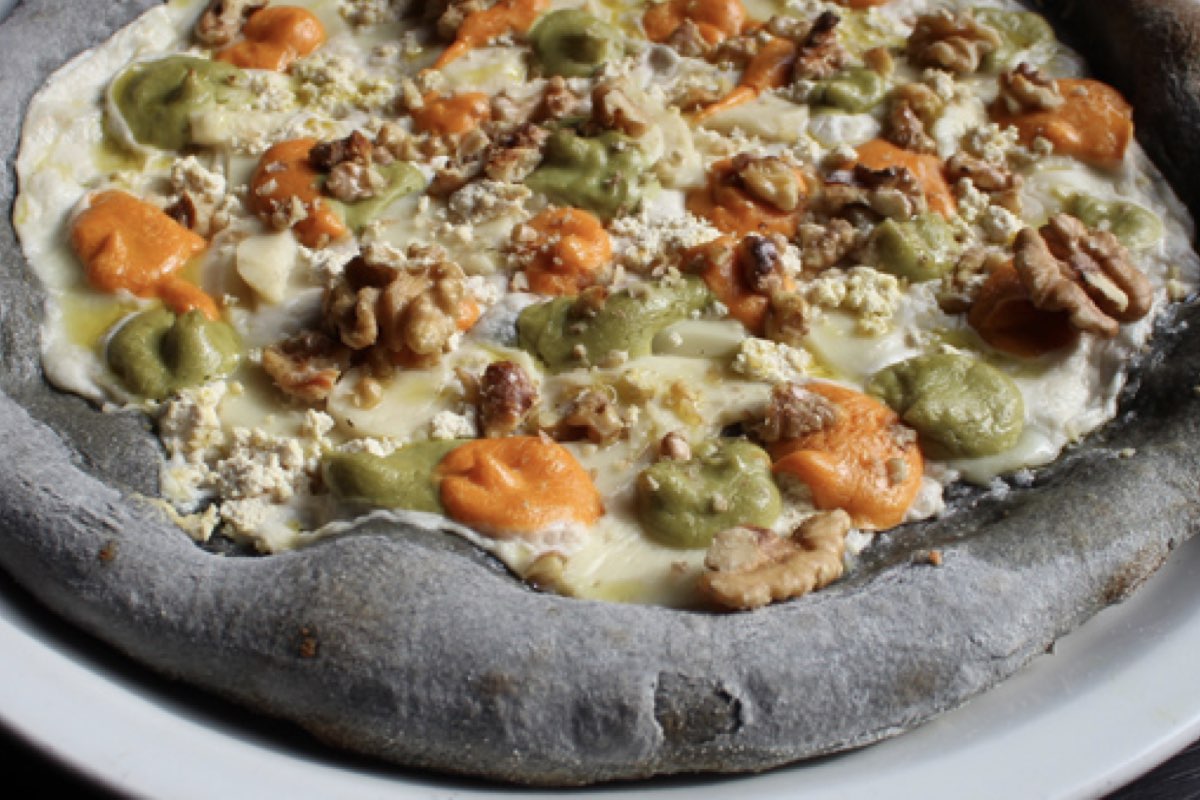 So you might have thought we've said everything there is to say about pizza in all of its forms. Well, think again. Introducing: Picky Wops. 100% vegan pizza. You read that right, these guys have done it, they've created a totally delicious, totally plant-based version of our greatest love. The variety of cruelty-free cheeses you can find on rotation at their stall in Peckham Levels includes: Coconut base mozzarella, cashew nut mozzarella (homemade), rice mozzarella, smokey coconut mozzarella, creamy coconut cheese, coconut parmesan, cashew nut camembert and almond ricotta. The list of ingredients to be found in their bases, meanwhile, wouldn't be out of place at a smoothie bar - hemp, multigrain, burned wheat, kamut, turmeric and spirulina. It's pizza, but not as you know it.
- Surrey Quays Shopping Centre, Redriff Road London SE16 7LL
Named after the year Princess Margherita visited Naples and was supposedly presented by the renowned Neopolitan chef Raffaele Esposito with the first incarnation of what we know today as 'pizza', Pizza 1889 pays homage to the dish's auspicious history. Using only the freshest ingredients and the most traditional of techniques, their stone-baked pizzas emanate Esposito's soft, floury base and are garnished with the same rich tomatoes and aromatic basil leaves. This little slice of history is prepared right before your eyes in their bright, modern dining room and is also available to take away.