Whether it's to celebrate the start of a new job, a new year or just a new week, we all need to hit the reset button every now and then. Visiting a local independent salon can be a great way to feel refreshed and treat yourself to a mini makeover! That's why we've given you 9 beauty salons in Beckenham to help you feel new again.
131-133 High Street, Beckenham, BR3 1AG
Ice Clinic, established in 2012, focuses on helping its thousands of clients boost their self-confidence by helping them achieve the best versions of themselves. They offer a wide range of treatments; everything from facials to hair removal, Ice Clinic can do it all at top performance every time. Each of their treatment rooms offer a calming and neutral atmosphere, perfect for zoning out and forgetting the week's stresses. Bring your South London Club card to your next visit and get 20% off any treatment!
414 A, Upper Elmers End Road, Beckenham, BR3 3HG
This salon's journey started with two sisters with a passion for beauty and sharing this with their local community. Their experience includes working in luxury spas in 5 star hotels and sophisticated salons across Chelsea. However, they knew they could achieve even more and be the stars of their own salon: The Little Beauty Village! Come to this salon for a well deserved cup of tea and pick-me-up treatment to feel new again! They even use plant-based and cruelty-free products to do their bit for the planet. With your South London Club card, you can bag yourself 10% off all treatments!
The Little Beauty Village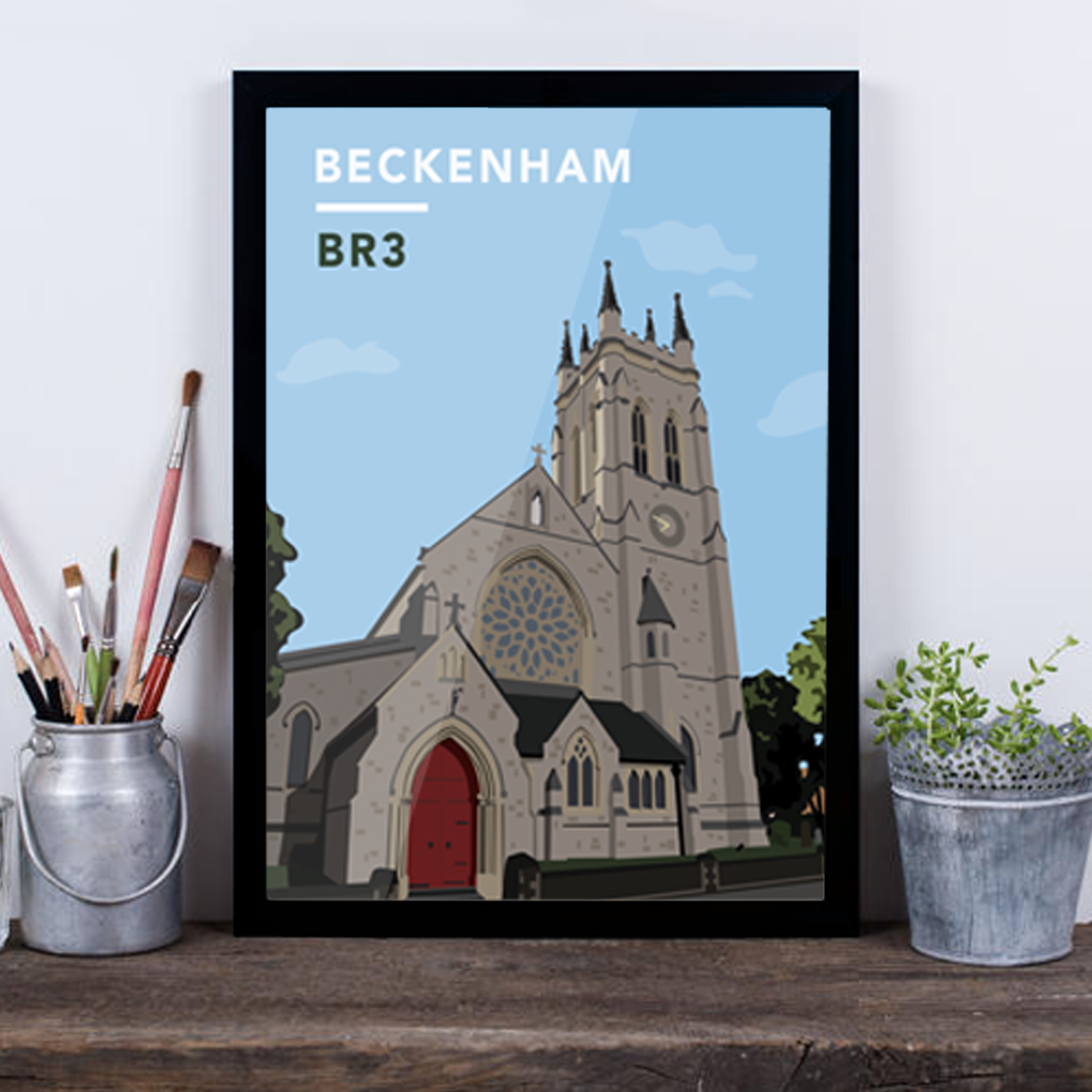 Beckenham St.George's Church BR3 - Giclée Art Print
Beckenham Is Where The Heart Is Mug
8-12 Bromley Road, Apex Business Center, Otterborn House, BR3 5JE
Leave this salon feeling completely rejuvenated as Breath of Angel Therapy only use the highest quality equipment to deliver the best beauty and wellness treatments. Come here to feel good on the outside and inside with remedial therapies like soothing massages or the Japanese Reiki Therapy! The salon's pristine surroundings and friendly staff will make you feel at home and allow you to completely switch off. Don't forget your South London Club card for a 20% off discount!
69 Beckenham Road, Beckenham, BR3 4PR
This salon specialises in laser hair removal and skin care to give you a more permanent result when you come here for your mini makeover. Leave with fluttering lashes or instantly smooth skin done by professionals that are dedicated to giving your their best service. Whether its unwanted hair or pigments, Light Touch can let you say goodbye to these to help you be the best version of yourself. They also offer free skin consultations so every treatment can be performed in the safest way possible!
159 Beckenham Road, Beckenham, BR3 4PT
This quaint boutique-style salon proudly offers high quality services at incredibly affordable prices. Their staff work tirelessly to cater to their culturally diverse clientele, giving each hair type the care and attention it needs. The small team brings an intimate and friendly atmosphere to the salon, and with their consistent positive feedback, it's no wonder they have so many regulars! Pop in and say hello with your South London Club card in hand and receive 15% off!
Plush Hair & Beauty Lounge
82 Bromley Road, Beckenham BR3 5NP
Have your hair styled by Francy herself, a highly trained professional with more than 10 years in the beauty industry. Here you can treat yourself to all the salon essential treatments, from a classic manicure to a Brazillian blow dry! As is the benefit at most independent salons, you'll be treated as an individual here, rather than a name on a client list, with Francy and her team catering to your skin and hair's needs in every visit!
3 Village Way, Beckenham, BR3 3NA
When you come to Ascott Beauty Clinic for treatment, your therapist's attention will be solely on making your experience the best it can be. Come here to be fully immersed in your relaxation with a fully body hot stone massage or a hydra peeling treatment to reveal fresh and plumped skin. They also offer men's treatments, including a MAN-icure and various hair removal services too!
26-28 High St, Beckenham BR3 1AY
Professional beauty therapist Jay has been described by customers as someone who will instantly put you at ease when you enter her salon, always striving to build valuable relationships with her clients. Jay offers anything from a refreshing face list to popular spray tanning treatments. Find Jay's Beauty Lounge inside Aitch & Aitch this week and be made to feel special again!
276 High Street, Beckenham, BR3 1DY
This 2019, Beauty By Ella celebrated a stunning makeover of their own salon so, when you visit, you'll be assured only the latest equipment will be used for any treatment. This salon believes quality should never trump care, but be equal, offering the best and most personal experience for each of their clients. With prices that are almost too good to be true, this salon easily becomes a favourite amongst locals who love a regular beauty top-up!
What Is The South London Club?
The South London Club is a local discount card to help support small independent businesses across South London whilst saving all who live, work & play in South London money! With over 850+ local discounts to choose from, you will discover & explore all the best hidden gems in South London. Join over 7,000 of us & celebrate all that's independent & South London!