Tired of London traffic? Head to Lewisham to find these fantastic bike shops that have been praised for their efficient service. Bikes as a mode of transport can often be overlooked, but not only is it faster than walking, you also get some exercise in for the day too! Whether you're looking to have a repair, or want to treat yourself to some new wheels, you'll find all this and more in our top 8 bike shops in Lewisham!
302 Lewisham High Street SE13 6JZ
This community driven bike shop opened this 2019, all geared up and ready to help you out with all your cycling needs! Whether it's advice on what bike is best for you or needing a repair, The Cyclery offers affordable servicing that is always top quality. Check out their website for more info, including the different levels of servicing they offer to thoroughly check your bike and help you keep it in top condition. Show off your South London Club card here and get 10% off servicing and labour!
148 Lewisham Way, New Cross, SE14 6PD
The team at Parts and Labour Cycles are, as expected, crazy about bikes! Despite being a business, they are always keen to offer free advice to form valuable relationships with their customers. With their motto 'anything is possible', it's easy to see why this shop have generated just a large following. Their witty bike puns made on their Facebook page probably has something to do with it too! Don't forget your South London Club card to get 20% off labour and 10% off parts!
23-25 Catford Hill, Catford, London SE6 4NU
Founded back in 1975 by local entrepreneur Chris Compton, you'll be guaranteed to get personal and quality attention when you visit Compton Cycles. With over 40 years of experience, you'd be silly not to trust their advice when buying your next bike. They have a wide range of adult and kids bikes to choose from, with staff always on hand to help you make your choice. To make it even better, with your South London Club card, you can get 10% off everything!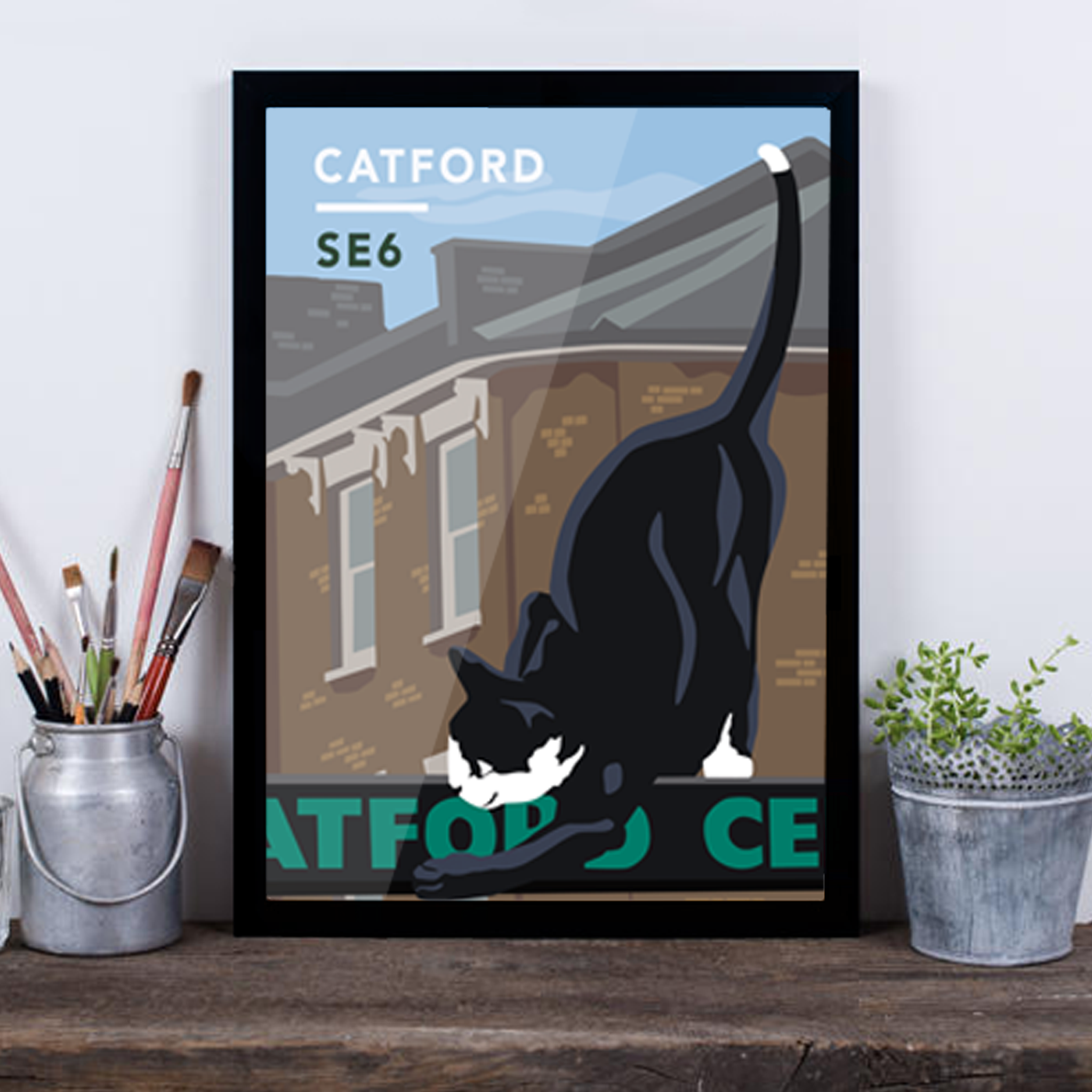 Catford Cat SE6 - Giclée Art Print
Deptford 90s Style Unisex T-Shirt
Okay, we admit it! Brake Bikes is more of an online shop, but that doesn't mean they don't produce high quality bikes that won't fail you! They have stocks in South London Cycles in Lee, as well as a shop online, so you can support this company no matter where you are! Designer Rachel Thomas combines Califorian influence with British design to create some of the most unique bikes in London!
18 Deptford High Street, Deptford, Lewisham, SE8 4AF
This quaint cafe along Deptford High Street also doubles as a repair shop for all your bike needs! You'll certainly be tempted to stop for a coffee while you wait. They have two fully equipped workshops, offering affordable prices to repair both big and small problems. Want to get stuck in? Then make sure to join the London Velo Cafe Cycle Club, where locals and lovers of the cafe get together and host Sunday social bike rides and more!
290 Lee High Road, London, SE13 5PJ
Formally known as Pedal It, South London Cycles still offer high quality and efficient service to make even the oldest bike feel new again. To keep their company sustainable, they also sell second hand bikes, making sure ones on sale are just as up to scratch as brand new ones. Customers keep coming back to this bike shop for its speedy and reliable work. Come down with your South London Club card in hand and get 15% off services!
74 Honor Oak Park, London SE23 1DY
Vaidas Bicycles are not only a top bike shop, but they also offer scenic bike tours all over Europe to make the most of your next holiday. Their workshop provides a wide range of repair services, adjustments and custom fittings, all done by passionate bike enthusiasts! Their main ethos is always quality over quantity, so you'll be sure to leave with your bike looking fresh! Bring your South London Club card along and get 10% off!
257 Algernon Road, Ladywell, SE13 7AG
From maintenance and servicing to custom builds, Ladywell Village Cycles is the local bike shop that has it all! As well as selling a range of bike accessories in their shop, they perform anything from a full strip down and rebuild, to simply a puncture repair. Regulars especially praise the friendly staff here who are always hands on and willing to do whatever it takes to have a customer leave happy!
What Is The South London Club?
The South London Club is a local discount card to help support small independent businesses across South London whilst saving all who live, work & play in South London money! With over 850+ local discounts to choose from, you will discover & explore all the best hidden gems in South London. Join over 7,000 of us & celebrate all that's independent & South London!