Whether it's pasta that's cooked to perfection or pizza with just the right amount of cheese, Italian cuisine is widely loved and served. You can find some of the tastiest Italian food right here in Lewisham! We'll take your through where to find the best pastas and pizzas and more in this South London Borough.
13 Lewis Grove, London SE13 6BG
A restaurant's main focus should always been the food, but Bella Roma go above and beyond, ensuring every customer that walks through their doors enters a welcoming and warm atmosphere. Some of their tastiest pizzas include Frutti Di Mare, topped with delicious seafood. With homemade desserts to cleanse the palette, a visit to this restaurant will surely be full of delight! With your South London Club card you can get 10% off your food!
3 Eros House, Brownhill Road, Catford, London SE6 2EF
Get the inside scoop on the Catford hidden treasure that is La Pizzeria Italiana! This restaurant provides an intimate and personal dining experience, serving a huge Calzone pizza for the big appetites! Customer favourites also include selected pasta dishes served in a Parmesan Wheel! Don't miss out and use your South London Club card to bag yourself 10% off at lunchtime (Monday-Friday)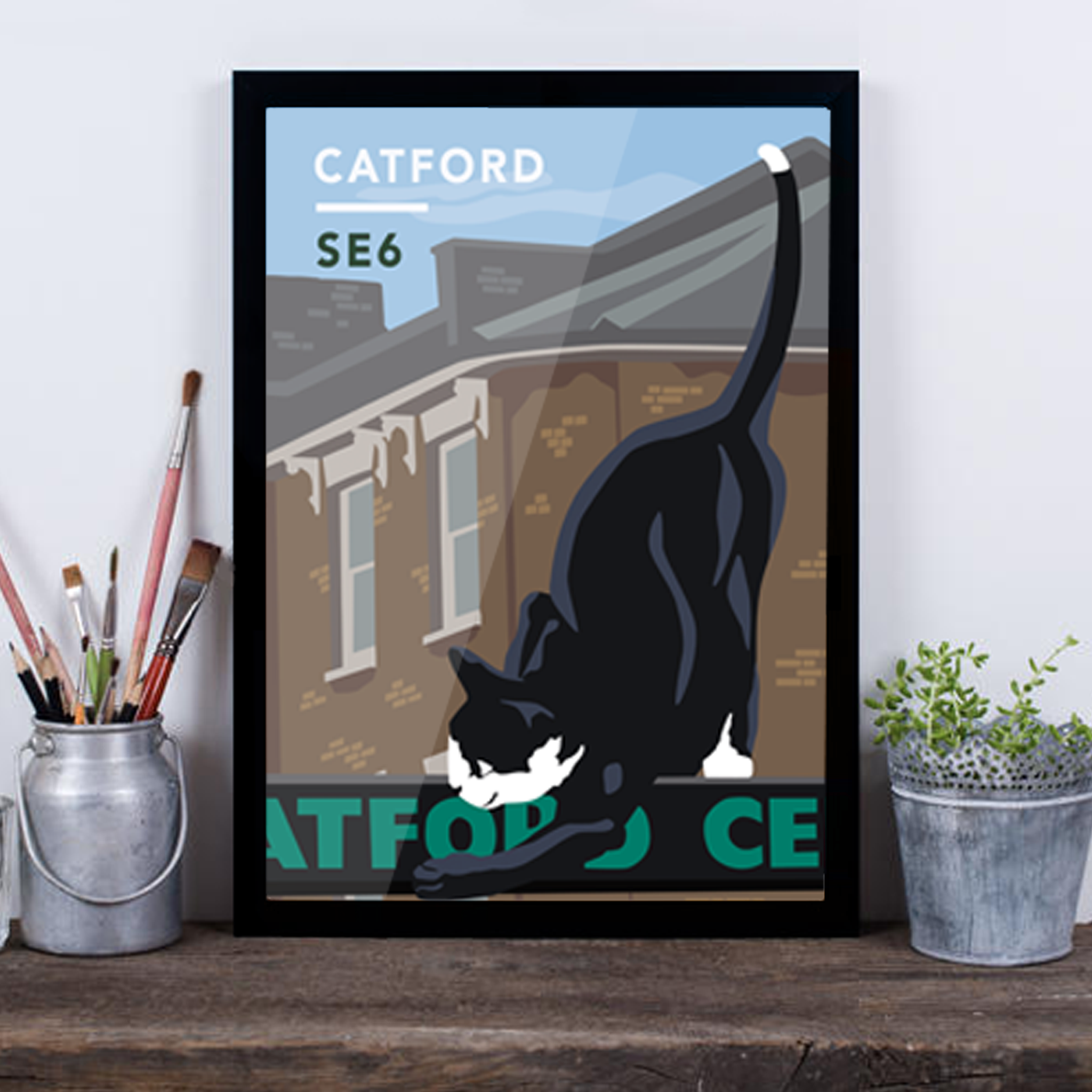 Catford Cat SE6 - Giclée Art Print
Lewisham 90s Style Unisex T-Shirt
151/157 Lee Road, Blackheath, London, SE3 9DJ
This restaurant is 'devoted to excellence' and 1 year away from celebrating their 10 year anniversary! Opened and still run by Chef Rui, only the highest quality food is served here, like Gnocchi To Your Liking, a dish personalised by you. Their wide range of fish dishes are also a customer favourite. You can even build your own pasta dish too!
Folkestone Gardens, Deptford, SE8 5JE
Festa Sul Prato is a breath of fresh air on this list, their chefs cooking up only the freshest food. With new specials every day, this restaurant is constantly innovating to bring you the latest Italian food straight from Deptford! Whether you fancy a quick coffee or organising a celebration dinner, this restaurant should be first on your list. If you're lucky enough to have a South London Club card, then you can get 10% off your meal!
Indiana Building, 1 Deals Gateway, Deptford, SE13 7QD
Italian dishes are served here straight from Puglia, as well as the most flavourful wine to finish off every last bite. The name of this restaurant is the Italian toast, roughly translating to 'cheers', making this spot a great place to enjoy with friends and family. Try Troccoli della Chef, which is Chef Enrica's signature dish. Artisan Apulian thick spaghetti, monkfish, tomato sauce, white wine, saffron, lime zest, parsley! Bring your South London Club card on your next visit and get 10% off!
Alla Salute Trattoria - Pizzeria - Social
134 Hither Green Lane, London, SE13 6QA
Many Lewisham locals have said this restaurant serves the best pizza in London and with an option for delivery too, there's no excuse not to see what everyone's talking about! Their newest pizza is the Primavera, topped with fior di latte mozzarella, wild chiodini mushrooms, rustic artichokes and fresh slices of Prosciutto Cotto. They also serve freshly prepared salads, perfect for a lighter meal.
29-31 Montpelier Vale, Blackheath, London SE3 0TJ
Let Zerodegrees tempt you with their delicious pizzas and enjoy them in the evening sun on one of their dining terraces. From the Sweet & Spicy to Caramelised Pear & Gorgonzola, there's a pizza for everyone's taste buds. They also double as a brewery, having won Bronze at the World Beer Awards 2019!
What Is The South London Club?
The South London Club is a local discount card to help support small independent businesses across South London whilst saving all who live, work & play in South London money! With over 850+ local discounts to choose from, you will discover & explore all the best hidden gems in South London. Join over 7,000 of us & celebrate all that's independent & South London!