Every coffee lover knows the struggle of finding a cafe that gives you that perfect brew. Even though you may come to these cafes for the coffee, you'll stay for the welcoming atmosphere and tasty food they offer. We've done all the hard work for you and narrowed down 6 cafes in Camberwell that we think you'll keep coming back to!
65 Camberwell Church Street, Camberwell, SE5 8TU
This independent cafe serves up the freshest coffee, perfectly paired with their sweet crepes. Maloko, along with its sister restaurant Katakata, aim to do more than serve its local community; they are also combating food poverty in our capital and eliminating waste culture to save our planet. They are always updating both their exterior and interior to create a colourful and inviting atmosphere for their loyal customers. Don't forget your South London Club card when you visit and receive 20% off!
70 Camberwell Church Street, London, SE5 8QZ
Lumberjack Cafe's coffee is always locally sourced from the Assembly Coffee, based in Brixton, with their speciality beans sourced from around the globe! Their name may seem random, but Lumberjack actually refers to the timber used by London Reclaimed, who make the gorgeous furniture in the cafe. Craftsmanship is another important mantra for Lumberjack, making sure almost everything, from what you drink to what you sit on, is sourced locally and homemade.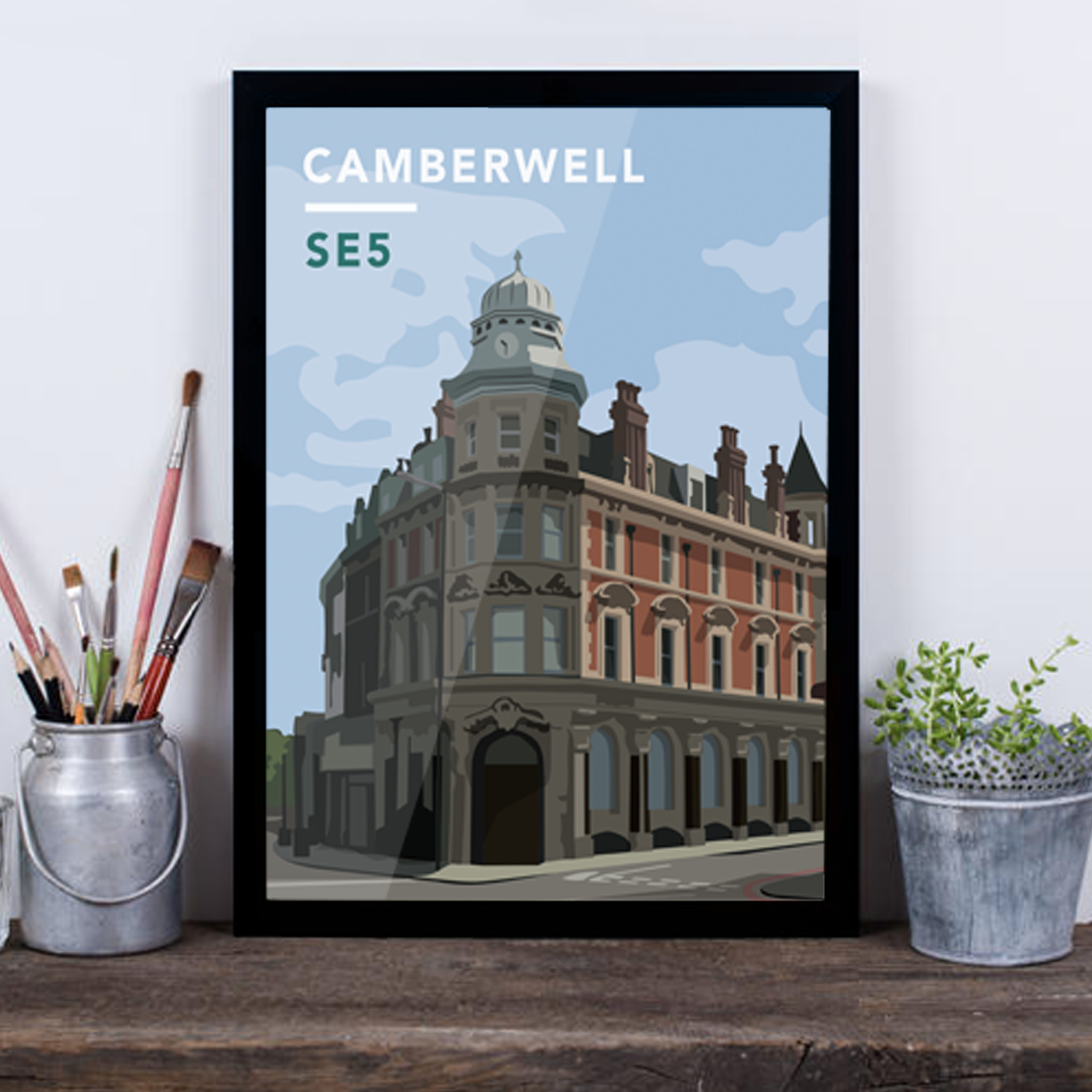 Camberwell Landmark SE5 - Giclée Art Print
Straight Outta Camberwell T-Shirt
2 Datchelor Place, Camberwell, SE5 7AP
The Pigeon Hole is not only a splendid cafe, but an outstanding bar and eatery too. Their chefs are dedicated to making sure each meal is from locally sourced ingredients and made completely from scratch. Volcano Coffee are their coffee providers from Brixton, guaranteed to create an explosion of flavours in every sip! Local magazines and newspapers are always provided around the cafe for comforting reading material to pair with your brew. Bring your South London Club card along and get 10% off!
3 Addington Square, Camberwell, London SE5 7JZ
Many South London coffee lovers praise this cafe for being their go-to for when they need a caffeinated pick-me-up. Each coffee is brewed with careful attention, the staff always creating a welcoming and friendly atmosphere. If you have a sweet tooth too, then regulars at this cafe love the desserts and cakes served here!
36 Camberwell Church Street, London, SE5 8QZ
Pop in for a coffee, but stay for their deluxe brunch options that Daily Goods offer. Like many cafes on this list, Daily Goods also make a big deal of supporting other local businesses, including serving up Deptford Cold Brew Coffee. From instagram-worthy avocado toast to fresh-tasting frittatas, there's something to pair with any locally brewed coffee. Don't forget to pick up one of their loyalty cards when you visit and get your 6th coffee for free!
29 Peckham Road, Camberwell, London, SE5 8UA
Brewbird have always wanted to serve more than just coffee (which is still one of the smoothest brews you'll find in Camberwell!), with their chefs working hard to constantly create new fresh dishes. Some of their previous daily specials include Cauliflower and peppers in a harissa and tomato sauce, topped with feta and served with pitta, perfect for a hot summer's day. They also release a pastry of the day so they'll always be something new to try here, even for regulars!
What is The South London Club?
The South London Club is a local discount card to help support small independent businesses across South London whilst saving all who live, work & play in South London money! With over 850+ local discounts to choose from, you will discover & explore all the best hidden gems in South London. Join over 7,000 of us & celebrate all that's independent & South London!