Whether you're a committed vegan or just enjoy meat-free Mondays, Lambeth borough can be a fantastic places to discover hidden gems that serve the most delicious and natural plant-based food. Even if you're not vegan, trying food from these places can be a great healthy eating solution. We'll take you through 7 of the best places to grab vegan food in Lambeth!
Beaconsfield Gallery Vauxhall, 22 Newport Street, SE11 6AY
The Ragged Canteen always aims to bring new and fresh menu items so even returning customers can still try something new! As well as offering ethically sourced vegetarian, vegan and gluten-free food, they also brew organic Monmouth coffee from their vintage Italian Espresso Machine. If you're lucky enough to have a South London Club card, you can get 20% off!
88 Brixton Rd, London SW9 6BE
This stylish vegan restaurant has been named 'one of the best vegan restaurants in the UK' by the Guardian and it's easy to see what all the fuss is about! Their dishes take inspiration from cultures known for their bursts of flavour. For example, try the Hoisin glazed aubergine, served with spicy rice noodle salad, toasted peanuts and chilli, seen in the photo below. Whether you come here for a meal or just a coffee, this cosy cafe has a beautifully welcoming atmosphere.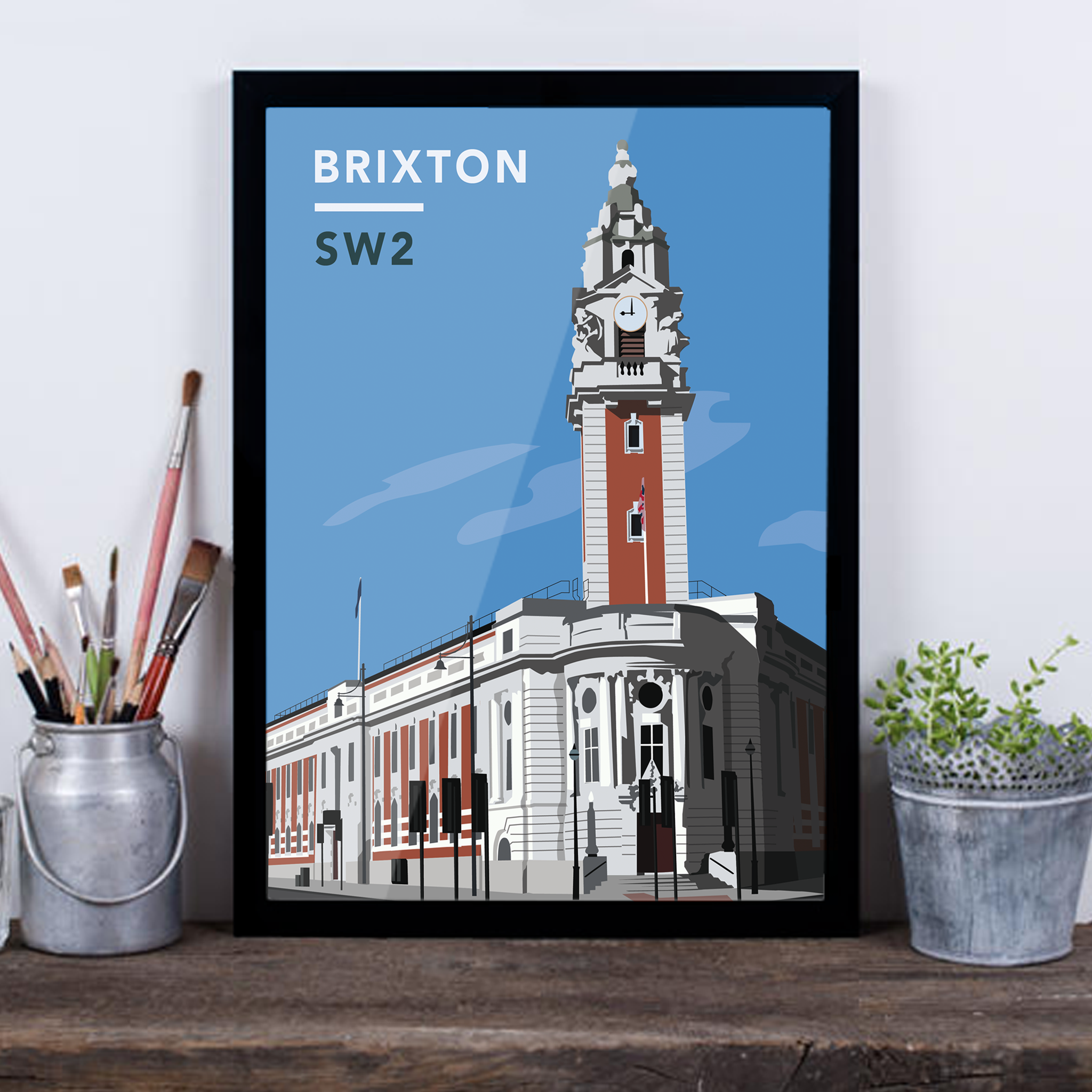 Brixton Lambeth Town Hall SW2 - Giclée Art Print
Vauxhall Scripted T-Shirt
11 Vauxhall Grove, Vauxhall, London SW8 1TD
This quaint cafe situated in Bonnington Square oozes an inviting atmosphere, its staff aiming to keep the place as peaceful as possible. If you're wanting an escape from bustling London, then this cafe is for you, as they encourage their customers to behave as if in a library, so you can enjoy the delicious food in comfort. Pop in and try the Sunflower seeds, green lentils, mushrooms and peppers roast with red onion gravy, asparagus, sprouting broccoli, kale and broad beans dish!
224 Brixton Rd, London SW9 6AH
Pipoca Vegan is a vegan and gluten-free creperie perfect for any vegan with a sweet tooth! They also serve savoury food too, all freshly prepared. This spot is also hailed as the only vegan zero waste store in Brixton, selling dry goods like essential spices and cleaning products! A visit here will definitely set you on the right path to caring more for our planet and easily maintaining a waste-free life.
100b Brixton Hill, London SW2 1AH
Feeling thirsty? Try one of Alkaline Juice Factory's green machines and get that well-deserved health kick! They use a range of popular health foods in each of their smoothies and juices, making sure each one is packed with refreshing flavour in every sip. These smoothies don't just contain fruit, but this spot load their creations with creative ingredients like Brazil nuts and Coconut jelly.
Brixton Is Where The Heart Is Mug
Unit.2B, 125-131 Westminster Bridge Rd, Lambeth, London SE1 7HJ
This vegan restaurant has a vibrant menu full of affordable food for you to broaden your palate. Some of their menu highlights include the Pulled Jackfruit BBQ Burger and Brazilian tomato & Black bean, Cashew & Quinoa. If you head over to their website, you'll see Ila Vegan & Veg list every single ingredient in each of their dishes, so you know exactly what you are putting in your body. You can also try one of their smoothies like the Kale Kick!
132A Brixton Hill, London SW2 1RS
As well as serving up tasty vegan food, Katakata also host workshops dedicated to healthy living and live acoustic music shows! Their upcoming events include Live West African Kora Music on 23rd September. Come and check out their amazing food too, especially their popular galettes, which are like savoury pancakes!
What Is The South London Club?
The South London Club is a local discount card to help support small independent businesses across South London whilst saving all who live, work & play in South London money! With over 850+ local discounts to choose from, you will discover & explore all the best hidden gems in South London. Join over 7,000 of us & celebrate all that's independent & South London!