Balham's brunch offerings are, frankly, astounding. You really are spoilt for choice when it comes to your Sunday dose of sourdough and poached eggs - and if you're looking for somewhere to spice it up a bit there are plenty of unexplored avenues and hidden gems for you to sample. Indulge in bottomless bonanzas, let your creativity roam free at a naked brunch or be transported to the likes of Morocco, Mexico and Southern Spain - it's all right here, in Balham.
- 2 Hildreth St, London SW12 9RQ
A breezy Southern European lilting little café whose chic, mismatched vibe spills out onto the pedestrianised street out front - perfect for a little staycation Spanish dreaming on a sunny Summer weekend. Built upon the solid, crusty foundation of the London brunch scene: sourdough bread and poached eggs, they've thrown a little of their mediterranean influence into the mix. Think iberico ham in your eggs benedict, serve atop soft Scotch mist rolls, or rich rancheros - tomato, beans and chorizo baked eggs. Plus, they have Spanish and Italian deli fare, along with their gorgeous crockery available to take home. If you pop in don't forget your South London Club card which bags you 15% off the total bill.
- 12 Balham Station Rd, London SW12 9SG
Two words for ya: bottomless brunch. That's right. £20 buys you free flowing fizz to accompany your leisurely brunch of, say, a treacle and stout cured bacon sandwich, with some courgette fries? Or a jalapeño cornbread muffin with sriracha, poached eggs and smashed avocado? Whatever floats your boat (most likely a tidal wave of prosecco), enjoy it all alongside the ever changing roster of events happening at this creative hub right in the heart of Balham. Plus they often put on themed brunches - from a monthly drag brunch to a naked brunch which features brunch, a glass of fizz and a 90 minute life-drawing class. Very hard to beat. If you can't make it over on the weekend, never fear - use your South London Club card for 25% off food Monday - Thursday.
- 113 Balham High Rd, London SW12 9AP
"HOB" to its regulars, Heart of Balham is a local, family-run café that has been going strong since 1994. Passed from the founder to his sons in 2017, they describe the place as 'reinvented' yet it remains steeped in family history: its rich and unique flavours are inspired by their middle eastern heritage, and the delights of their mother's Moroccan kitchen. They're loaded with brunch classics, have an awesome selection of omelettes and vegetarian/vegan options but the menu highlights have gotta be the Lebanese breakfast with Sumac fried eggs, lamb Merguez sausages, grilled halloumi, batata harra, Moroccan beans and toasted sourdough as well as Mama's Moroccan Pancakes, served with Labneh (soft cheese), jam/honey, olives and Moroccan mint tea or Arabic coffee. Use your South London Club card for 15% off the food.
- 8 Bedford Hill, Balham, London SW12 9RG
First things first: the coffee. These guys know what they're doing when it comes to the bean, sourced from local legends Volcano Coffee, they grind it freshly and (unusually) the mochas are especially good. Their brunch menu comes with a little Mexican twist, including a decadent, melty breakfast burrito and quesadillas that'll give you a little kick-start to your day. Their sourdough is also not to be missed and their scrumptious selection of toasted sandwiches is available all day long. Don't forget your South London Club card for 10% off purchases over £7.50 Monday - Friday.
- 15-19 Bedford Hill, London SW12 9EX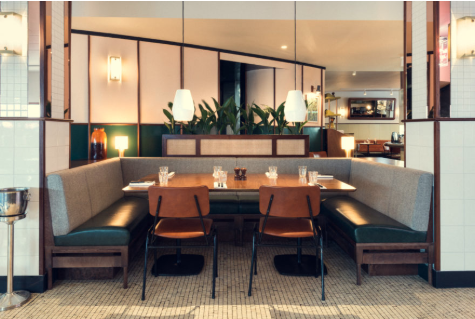 A stripped down and undeniably chic diner style restaurant with cosy leather booths and tiled floors, Foxlow has a stylish and friendly atmosphere to wile away a few weekend hours with a loaded fried chicken croissant waffle (sounds wild, I know) or some to-die-for ham hock hash browns. They also, very importantly have three bottomless options: bloody mary, prosecco or coffee.
- 8-20 Bedford Hill, London SW12 9RG
Milk has the kind of stripped down, impossibly cool decor that has your tastebuds piqued for perfect coffee the moment you walk through the door. It doesn't disappoint, with beans sourced from Berlin roasters The Barn, but also offers Horchata - a forty-hour steeped rice or almond based drink popular in Valencia and South America. The food here is something else. There are eggs of all different kinds, but there are also homemade crumpets drizzled with wild rosemary and Wandsworth honey; sweet buckwheat pancakes with smoked apricot, elderflower syrup, burnt apricot marshmallow and macadamia nuts and the even more decadent Convict's Muffin - topped with drycure bacon, M. Moens & Sons sausage, burford brown egg, poacher hash and hangover sauce. I know where I'm setting up camp this Sunday.
- 9 Chestnut Grove, London SW12 8JA
Stylish and colourful takes on breakfast classics are the order of the day over at neighbourhood favourite Brother Marcus. It gets busy on the weekends and there can be a short queue but that just makes the Step Sister - a stack of sweet potato, courgette and feta fritters topped with poach egg - taste all the more delicious. The coffee is definitely worth a mention as it is crafted to perfection and is the perfect pick me up along with (of course) the Sugar Daddy - cinnamon french toasted crumpets with caramelised banana. It's a crazy, twisted, delicious family affair.
The South London Club is a local discount card to help support small independent businesses across South London whilst saving all who live, work & play in South London money! With over 800+ local discounts to choose from, you will discover & explore all the best hidden gems in South London. Join over 6,000 of us & celebrate all that's independent & South London!