One of the best and easiest ways to discover new cultures is by trying their food! Whether you're craving some Caribbean food or want to try Korean flavours, let us help you step out of your culinary comfort zone with these 6 restaurants to take round around the world in New Cross!
265 New Cross Road, New Cross SE14 6AA
Cummin' Up has been serving up deliciously authentic Caribbean food since 1991 and you can visit the place where it all began as New Cross was where this business originated! Owner Richard is the perfect mix of a South London bred local with strong Caribbean heritage, meaning he knows exactly how to excite locals' taste buds. Some of the regulars', and newcomers', favourites include the jerk chicken and curried goat. Don't miss out and use your South London Club card to get 10% off!
Mike and Mark are the genius 'bros' behind Adobros, a Filipino supper club that is guaranteed to be a unique experience you won't forget! Based out of their New Cross flat, these two brothers travel across South London to serve up food that best captures the Filipino culture that they're so proud of. At whatever venue you find this company at, you can always expect a warm welcome and a vibrant atmosphere. Receive a complimentary bottle of wine or drink for every 2 people in the booking when you use your South London Club card!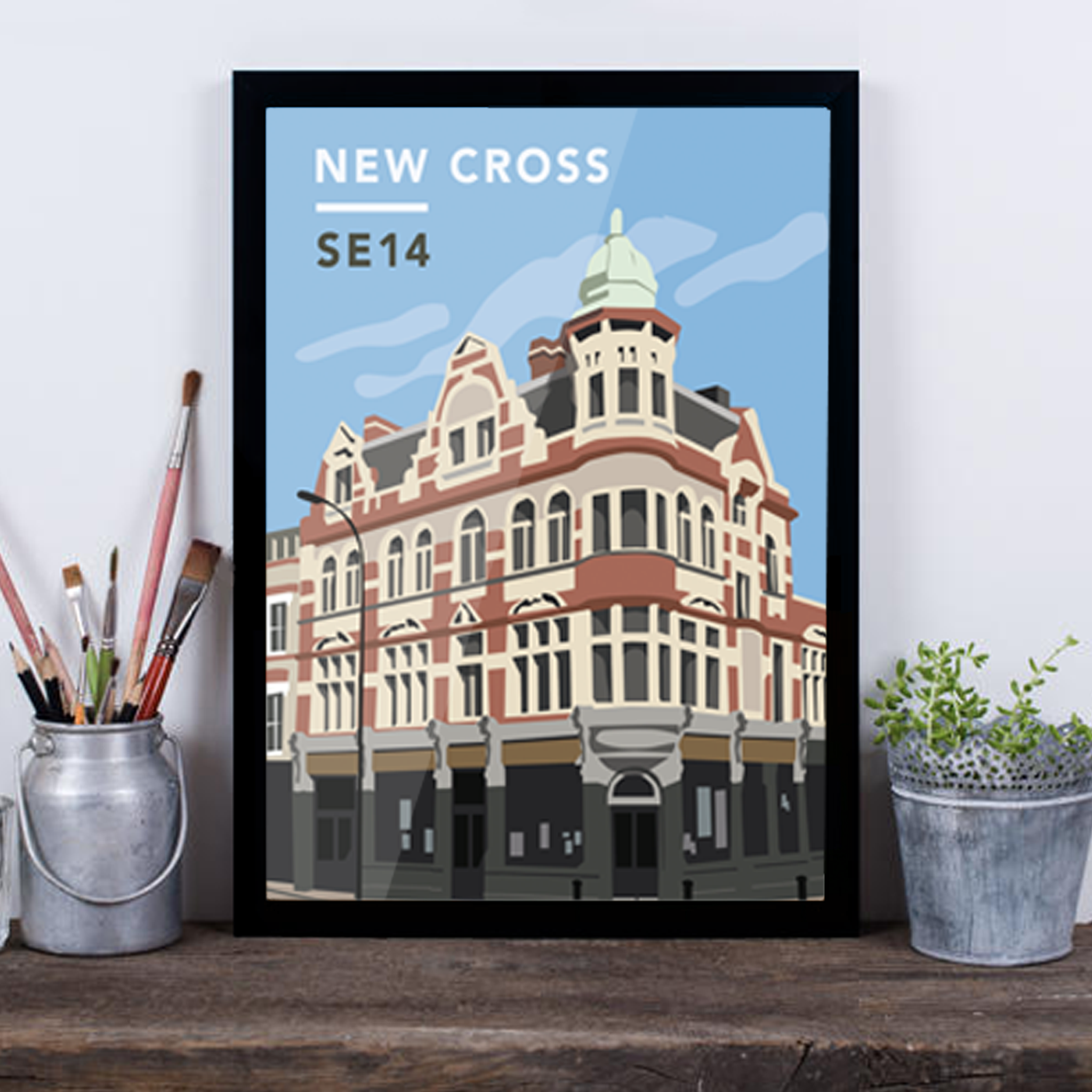 New Cross SE14 - Giclée Art Print
Straight Outta New Cross T-Shirt
125 Lewisham Way, New Cross SE14 6QJ
This friendly Korean restaurant never scrimps on portions, as to ensure you get as much flavour in every meal you try here! You'll find truly unique dishes here, like pumpkin croquettes and seafood pancakes, keeping new customers intrigued and often coming back for more! This is a perfect restaurant to enjoy a quiet and intimate atmosphere with friends, whilst getting a quality taste for what Korean culture has to offer.
178 New Cross Road, New Cross SE14 5AA
Next stop Hungary! Visit The Rosemary along New Cross Road and be treated to authentic and organic Hungarian food like you've never tasted before. The restaurant is beautifully decorated both inside and out, with stunning blooming flowers that will entice you to take a look through the windows. Some of our favourite dishes include the Chicken Paprikash with homemade noodles and the Gypsy Roast! Show off your South London Club card when you visit and receive 10% off food (Tue-Thurs) & off craft beer all the time!
The Rosemary Organic Hungarian Restaurant
29-31 Lewisham Way, New Cross SE14 6PP
You'll find this Vietmanese canteen just opposite the famous Goldsmiths University, with students and non-students alike often choosing to spend their lunch breaks and evenings here. Whether you want to try some traditional Pho or Bun Cha salad, Phosmiths is ready to bring you dishes bursting with flavour. Some say the prices to match the tasty food are almost too good to be true, but we can assure you it's a real bargain you will certainly come back for!
379 New Cross Rd, New Cross, London SE14 6AT
We finish our journey to try some inspiring Turkish cuisine from Mez Mangal. Whether you want to have the full experience and dine in or take the food away to the comfort of your own sofa, the quality never wavers here. Regulars love the perfectly cooked lamb here, as well as the feta filo parcels. Many have named their experience here a 'Turkish delight', so we think it's time you pop in and see what all the fuss is about!
What Is The South London Club?
The South London Club is a local discount card to help support small independent businesses across South London whilst saving all who live, work & play in South London money! With over 850+ local discounts to choose from, you will discover & explore all the best hidden gems in South London. Join over 7,000 of us & celebrate all that's independent & South London!