Sometimes the change in the seasons brings about more than different coloured leaves. Whether its autumn coming or the arrival of spring, any time of year is the perfect time to give you home some TLC, from a deep carpet clean to a fresh coat of paint in your favourite room. We're done the research and found 11 places and services we know will help transform your home.
71 Bedford Hill, Balham, SW12 9HA
Stationed at their showroom in Balham, A Flooring Boutique take their services across London and Surrey. They promise to align their carpet designs and installations with each of their client's specific needs every time, often with bursts of colour! Their attentiveness is second to none, putting customer service at the top of their list, along with high quality flooring products and fitting services. Come in today and browse some of the top carpet brands from this charming independent. Just bring in your South London Club card for 10% off (excludes installation costs)!
23b Lombard Road, Wandsworth, SW19 3TZ
Established way back in 1989, Straker Cleaning is the company to call to make your carpet look brand new! Value, service and satisfaction are this forward-thinking company's three main goals in every customer they service, so it's easy to see why they have had such stellar reviews. Straker Cleaning also think of the environment when they work, making sure their equipment isn't releasing anything harmful into the air. Take advantage of your South London Club card membership and get 20% off onsite services!
32 Replingham Rd, Southfields, London SW18 5LR
Hillside Carpets pride themselves on offering some of the best carpets and flooring in South London! With a plethora of experience, their staff is on hand to give you honest and valuable advice on how to get your home's transformation started, whether you want a refresh or an entirely new look. Their 'shop in home' service means you can get free measurements and estimations so there will never be any hidden costs when you use this service!
Battersea Park - Giclée Art Print
Battersea 90s Style Unisex T-Shirt
30-32 Queenstown Road, Battersea, SW8 3RX
'A bed without a headboard is like a bird without wings': we couldn't have said it better ourselves! As well as specialising in bespoke beds and accompanying headboards, The London Headboard Company also offer soft furnishings to touch up your bedroom, including cushions, curtains and loose covers. With over 43 years of experience, you can trust the team here to give the best advice and service, as they often create their bespoke products from scratch! Pop in with your South London Club card this week and get 10% off!
65 Grosvenor Street, Mayfair, London, W1K 3JH
Despite having offices in central London, Builders GB has quickly become South West London's most reputable Architectural Design & Build company. Not only can you employ this trust-worthy company to do interior design, but they also specialise in loft, basement and garage conversions, so you can make the most of your space. You can even use your South London Club card to get a 5% discount on all new loft Conversions, home extensions & basement conversions!
20 Smugglers Way, Wandsworth, London, SW18 1EG
This company have been selling wood floors since the early 1990s and understand how to maintain this timeless look. From their journey beginning in a small shed in Balham to a stunning showroom in Wandsworth, The Natural Wood Floor Company has come a long way to still be the dedicated company they are today. All their flooring is expertly engineered and made to last almost as long as the company itself!
The Natural Wood Floor Company
58 Battersea Park Rd, London SW11 4JP
Located just a short walk from Battersea Park, Battersea Carpets gives you stylish, yet affordable carpet choices to freshen up any room in the house and keep it looking cosy and inviting. This store promises to be a stress-free zone and make buying flooring easy, convenient and hassle-free. With dozens of brands to choose from, you'll be spoilt for choice when you visit! Bring along your South London Club card when you do and get 8% off flooring and installation!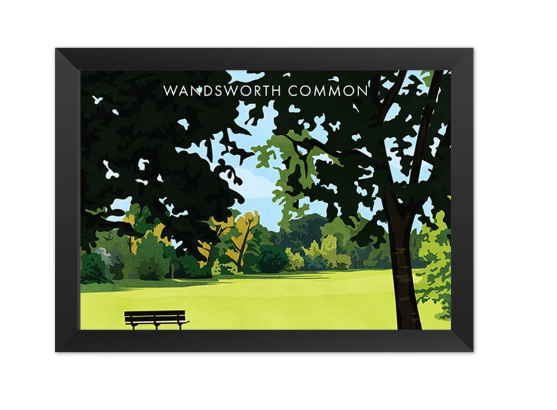 Wandsworth Common SW18 - Giclée Art Print
53, Webb's Road, London, SW11 6RX
If you're looking for a bigger project, look no further than Orchestrate, a building company based in Battersea that specialise in residential basements and renovation projects. This company is built around the ethos of honesty and has become the way they have created an impressive reputation. They promise to remain transparent, wanting to give the most accurate estimates on projects so you know exactly the quality service you are in for! Still need more convincing? Head to their website to check out their extensive portfolio!
67 East Hill, London SW18 2QE
You'll find Marlow's Carpets in the heart of South West London, offering sleek solutions at jaw-droppingly low prices. As well as offering top notch flooring, you'll also find carpet runners and custom made rugs in their showroom, where the friendly staff are more than happy to assist you in any way. What makes this carpet company even better, and is probably the reason for their repeat clientele, is their price match guarantee. Bag the ultimate bargain with your South London Club card and get 5% off!
The Gallery. 269 Cavendish road, Balham London SW12 0PL
This flooring company gives only high class service to its residential and commercial clients across the nation, becoming one of London's leading wooden flooring suppliers. Whether it's a classic or contemporary vibe you are after, The Wooden Floor Specialists have you covered, always knowing how they can give that finishing touch to your next home project. Want to keep your wood looking fresh? They also sell their amazing polish so your flooring can look brand new every day. Don't forget your South London Club card and get 10% off solid parquet wood block flooring!
Studio 145, 210 Upper Richmond Road, Putney, London, SW15 6NP
Give your home a well-deserved makeover with something as simple as a fresh coat of paint with Decorwise. Being based in Putney, this company actually covers all of London and surrounding areas, working hard to bring their expertise to as many homes as possible. As well as residential decorating, Decorwise have also decorated over 100 London schools and retail and office spaces. Many have particularly been impressed with the high level of communication from the company, where each project is achieved efficiently.
What Is The South London Club?
The South London Club is a local discount card to help support small independent businesses across South London whilst saving all who live, work & play in South London money! With over 850+ local discounts to choose from, you will discover & explore all the best hidden gems in South London. Join over 7,000 of us & celebrate all that's independent & South London!