The back to school season can be stressful and finding new clothes for your child to wear can often be half the struggle! Don't worry, we're here to help! Teach your children the importance of supporting local businesses whilst picking out clothes that can be for school days and the weekend with these 6 clothing stores in Lewisham borough!
Do you have a fancy dress party fast approaching and no costume for your child? Loola and Goo have you sorted with their online shop focusing on vintage-inspired dress to impress both the kids and the parents at the next party! Their incredibly skilled staff hand make tutus, dresses, tops and hair accessories, all inspired by the classic 1920s flapper girls. Use your South London Club card to get 10% off everything!
169 Brockley Road, London, SE4 2RS
Gently Elephant celebrates how clothes can help boost children's creativity and express their personality! As well as providing stylish clothes for any occasion or weather, they also sell high quality games, books and colouring books for your child to enjoy. Their motto, 'everything we sell we sell because we know they are brilliant' is certainly reassuring, knowing the staff produces not only high quality products, but stellar customer service too. Pop in this week with your South London Club card to receive 10% off shoes!
246 Lewisham High St, London SE13 6JU
Bailwood is a fantastic shop to stock up on all your child's school uniform necessities. They stock uniforms for all the local primary and secondary schools, so shopping for the new term can never be stressful again! Their top quality and crisp looking clothes have prices that won't empty your pockets either. You'll also find essential stationery here too, so your child will be ready to take on the school week.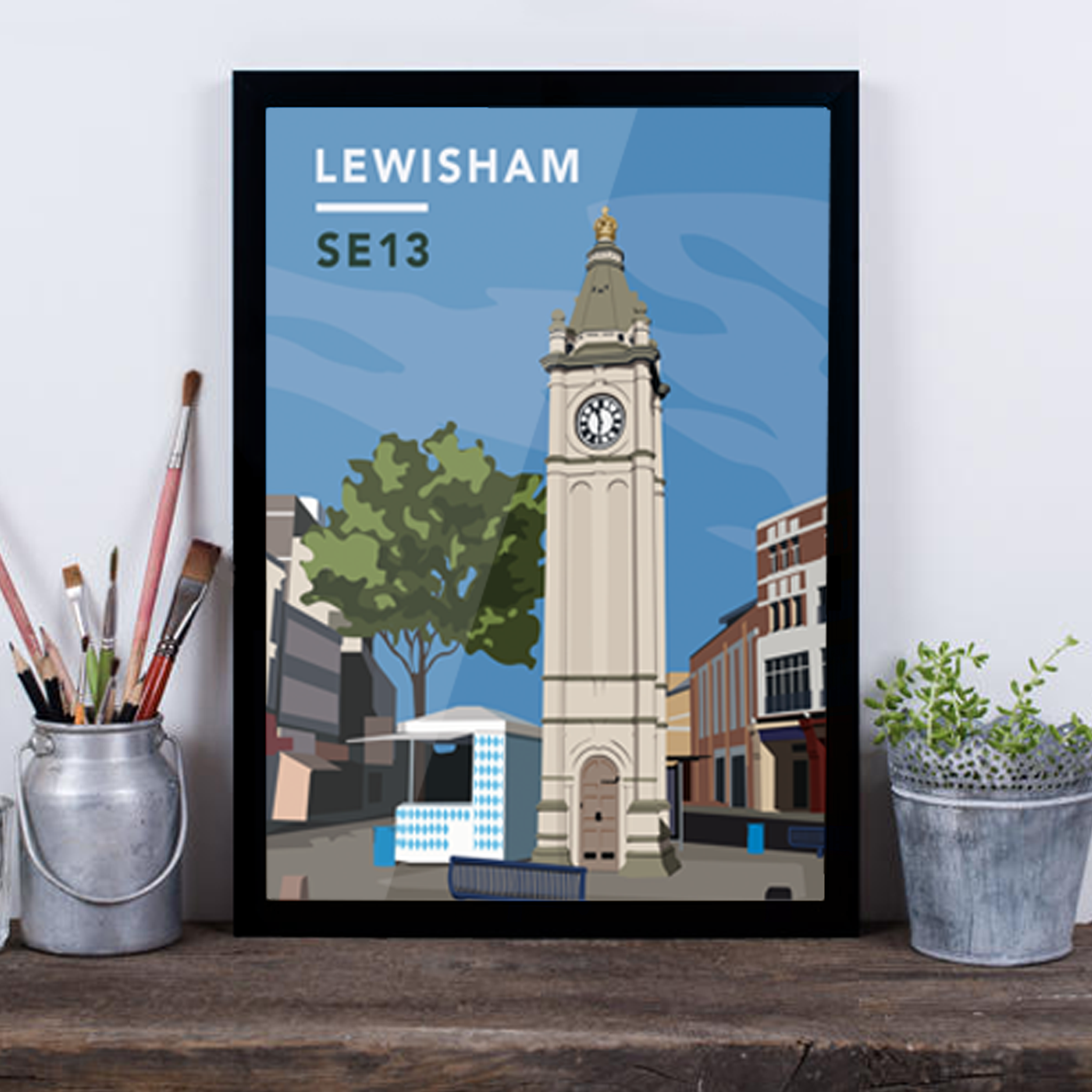 Lewisham Clock Tower SE13 - Giclée Art Print
Brockley 90s Style Unisex T-Shirt
375 Lewisham High Street, London, SE13 6NZ
This high-end baby boutique has you covered for all your baby needs, whether it's new clothes when they're growing too fast or a comfortable stroller. Run by parents, the staff here are always happy to give out advice to new parents or parents-to-be, creating a warm and welcoming atmosphere to anyone who steps through their doors. If you're lucky enough to have a South London Club card, you can get 10% off (except sale and premium items)!
This online shop specialises in all things that will make you go 'awww' as you dress up your child in one of their pieces. Run by a mother daughter team, Baby Haute Couture understand the importance of feeling connected with your children, and that's why all items are created by hand so you know your child will be wearing not only adorable, but sustainable fashion too. From flowing dresses to delicate headbands, there's no reason not to browse through their impressively extensive collection. With your South London Club card, you can get 15% off everything (email us for discount code)!
244a Lewisham High Street, London, SE13 6JU
With a branch in both Lewisham and Camberwell, Whitehall Clothiers is another great store to stock up on your child's uniforms for the academic year. Not only will you find local school uniforms here, but they also stock Scouts and Guides uniforms at all levels for your little explorers to look the part! Counting your pennies? No worries! This store always have clearance and special offers to keep your eyes peeled for and get a great bargain!
What Is The South London Club?
The South London Club is a local discount card to help support small independent businesses across South London whilst saving all who live, work & play in South London money! With over 850+ local discounts to choose from, you will discover & explore all the best hidden gems in South London. Join over 7,000 of us & celebrate all that's independent & South London!